for the Grow Your Blog Party.....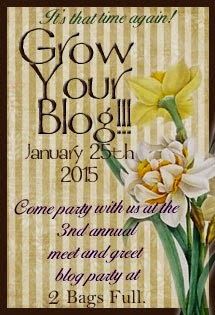 You need to do that before the 17th though, and all the registration details can be found
here
.
I did that last year, and had a lot of fun visiting lots of new to me bloggers. And found lots of followers too.
So what I have been up to lately?
I wanted to have a holiday at home the last few weeks. So I have made a point of not spending too much time on the computer; I have read several books; spent time in my workroom clearing it out and tidying it up; done minimal cooking (yay!); had time with the grandies (its summer school holidays here); and generally tried to slow down and have a rest. Tomorrow is the start of the new year and most of the things I do are ramping up after the summer break this coming week.
While I was clearing out the "stuff" downstairs, I found a large pile of half square triangles. Some are still triangles, but most have been sewn together into squares. They were donated to Stitching Hearts as a UFO and were in a pile in the cupboard at Cabarita, so I brought them home to "do something with them" a bazillion years ago. They have languished in MY cupboard since then.
I found them yesterday, and took a good look at them.
To be perfectly honest they are pretty ghastly paired up. Not only don't the fabrics tone, but all of those plain ones are homespun and whack me in the eye each time I look at them. So I thought I would unpick almost all of them. I won't mind doing that in front of the TV at night - two mindless things deserve one another LOL.
My initial thought is to pair them up with a tone on tone cream. There are a few already done this way, and they aren't too bad.
Do you think the cream tone on tone will work with all those different Japanese fabrics, none of which blend with each other, or should I try to find something else to blend with them? If not the cream, where should I be going with these? Perhaps a cream with more yellow in it??
While delving into the cupboard, I also found this medallion (another UFO from Cabarita).
It is currently 34" square, and to make it up to the usual lap quilt size that we make, I thought I would add a narrow framing border in brown (maybe not that one), then add a border of the HSTs above, once they are remade.
The HSTs might work. What do you think? Will they work with the medallion? I think I need to trim them to a slightly smaller size. Currently 5.5"; maybe trim down to 4.5" to balance with the rest of the quilt.
Like most people whose blogs I have read recently, I vowed and declared that this year I would clear out some of the UFOs in my cupboard. So the medallion and the HSTs are two of them, but I also dragged out this wall hanging, which I finished off yesterday.
I made it about 2010 (possibly even 2009) as a class sample in foundation piecing with the original inspiration from an old magazine. I taught the workshop at Friday Quilters. And what did I need to do with it? Hang my head in shame - all I had to do was put the hanging tabs on it so it could go up on my wall. Sigh.... It has sat there sadly for at least 4 years, waiting on half an hour of my time.
Til next time.....Keep on sewing.