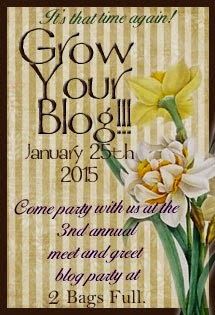 If you are visiting me for the first time as a result of the Grow Your Blog Party - Welcome!
Firstly, a little bit about me. My name is Dasha, and I live on the gorgeous NSW Central Coast, with my Dearly Beloved and my furry baby, Tibby, and not all that far from my daughter and her family of 3 girls, and little 3 month old foster son as well.
I can't remember a time that I haven't been involved in craft. I started with dressmaking, and progressed through knitting, cross stitch, embroidery, and patchwork. Now my craft revolves around my grandies and the charities I support.
I have had my blog now for 2 years - my second blogaversary was just 2 weeks ago. Mostly I blog about twice a week or so. I blog about:
The beautiful place I live....
My little scamp Tibby, appears now and then.
Sometimes my garden gets a mention. I'm a pretty terrible gardener but I love it nevertheless.
Occasionally my grandies make an appearance, but generally I don't like posting photos of the kids on the Net.
Most of the quilts I make these days are for charity, and I am very involved in a group called Stitching Hearts. You can read a bit more about them
here
.
I also make quilts for Aussie Hero Quilts and sometimes laundry bags too. Aussie Hero Quilts is an organisation which makes quilts for Australian service men and women who are deployed overseas. You can read a bit more about them
here
.
You will have gathered by now that I like scrappy quilts.
And sometimes I'll show you bits of my embroidery.
Sometimes I talk about the things that are uniquely Australian too. I'm proud of my country, and I know that many of my readers like the blog posts I do about our animals....
and the countryside too....
If you would like to see some more of my work, you can take a look at the tabs at the top of this page, or take a look at some of the previous posts you'll see under the heading Blog Archive on the right.
If you would like to see some of the other blogs participating in this blog hop, you will find them at Vicki's blog, 2 Bags Full which is
here
.
I do hope you have enjoyed your visit to my little world, and that you will come and visit me again. Please leave me a comment so that I can return the compliment and visit you.
Til next time.....Keep on stitching