According to the definition
in Wikipedia,

Boxing Day

is a holiday traditionally celebrated the day following Christmas Day, when servants and tradesmen would receive gifts, known as a "Christmas box", from their bosses or employers.
- the start of the Sydney to Hobart yacht race
- the first day of the 3rd Cricket Test, which is played in Melbourne
- and the first day of the bedlam they call the post Christmas Sales
I don't care for any of that, so I generally hole up in my lair. This year was no exception. I went down in the morning determined that I would complete the quilt top that I am doing on commission, at least to the border stage.
I did get the blocks sewn together for three rows, but I couldn't settle.
Do you ever do that? I don't know if it was the fact that it I hadn't chosen the fabrics, or the design, but I really struggled with this, despite being full of resolve in the morning.
I still wanted to play with fabric, so I turned to tidying my cutting table which was a disaster area, completely covered with fabrics from the last few projects I had done, and lots of other sundry bits and bobs. So I put everything away and began to chop the scraps into useable, functional squares.
Amongst the "stuff" I found the last piece of this fabric - just enough to cut a 2" strip
It came from a lovely lady called Kay, who was an ex-pat American back in about 2006. I had
coerced
encouraged my group of quilt friends to make a charity quilt. Kay walked in one day, and said "that quilt needs some yellow". The following time we met she came with about 5 metres of this lovely yellow fabric. She went back to the US quite suddenly just a couple of weeks later, leaving this fabric behind, and I lost track of her. The last time I used it was in a quilt I made called "Go for Gold" for an Aussie Hero (see
here
and
here
for more about that quilt).
Where are you Kay? Do you know that this lovely fabric of yours has been in about a dozen quilts? All of them charity quilts? So there are 12 or so people who have benefitted from your generosity. You never got to see the quilt you helped make either....
It was really too complicated a quilt to make for charity, we should have chosen something quick and simple. Nevertheless, we had some fun days, with a whole production line going - some sewing, some cutting, some ironing, and some laying out.
We gave it to a charity called "Youth Off the Streets" to auction at a fund raising event. It runs a number of programs including semi-permanent accommodation for street kids, refuges, residences for kids out on bail, and a street food van as well.
We called it "Cobbers & Freckles". Both of these are old fashioned sweets. In my childhood I used to walk up the road after school with my mates to the Newsagents (owned by Mr Roggiero) to buy a penny or two's worth of lollies (sweets/candy), and cobbers were my favourites - hard chewy caramels covered in chocolate. Freckles were second favourites. They were little round, flat chocolates with hundreds & thousands sprinkled all over them. Mr Roggiero had the lollies in great big glass jars behind the counter, and used to count them out into little paper bags. From memory, cobbers were a penny each and freckles two for a penny. What was your favourite lolly as a child?? Mine are still choc coated caramels, the chewy-er the better!
So that was my Boxing Day. The cutting table is looking pretty good. I'll show that to you next post, when it is completely clear.
On another note. I have decided to join into the Grow Your Blog party again this year. Vicky at
2 Bags Full
hosted it last year and I had such a ball visiting heaps of new to me bloggers! And it increased my followers hugely.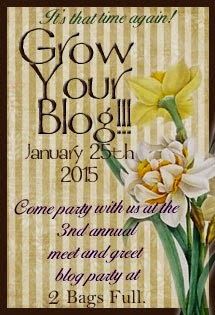 If you would like to grow your blog you can join in the party too; you have until 15th January to register. Click
here
or the pic above, or the one the right side bar (which will be there as soon as I finish up here)
Til next time.....Keep on stitching.