I have finally finished the book I have been reading for a while - "Mr Chen's Emporium", by Deborah O'Brien.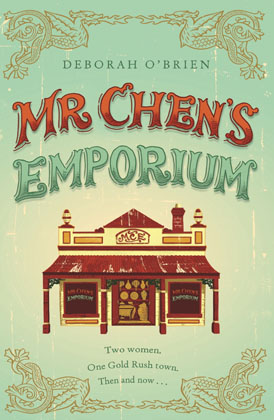 Here is the link to the author's official page
When I use the word "finally", I don't mean it in the sense that it has been a trial. I have just loved this book. I have read it with pleasure, and have found myself rationing my reading time so that I didn't finish it too quickly. I was dying to find out what was going to happen, but I didn't want to come to the end of the book. Does anyone else do that??
The book was set in a fictional gold mining town in Australia (I think it is set in Gulgong in NSW, but the book does not really state that) and it begins with the main character moving into an old house. She finds some mementos belonging to a girl called Amy who lived in the house in the 1870s, and so the story weaves from 1870 to the present day, and traces the lives of the two women. I just loved the story, and the author's style. It also helps that I love history as well, and am particularly interested in early Australian history.
I haven't sewn a stitch for several days, and am feeling withdrawal symptoms! Two very busy days, doing all the things that one has to get done has left me with no time to sew. Not complaining though. Yesterday (amongst other things) I had a lovely friend come for afternoon tea, which was just great, and today I went shopping with my gorgeous daughter. Who could complain at that?